VSAT
Via Orange Business Services
Times change, challenges remain
Limited connectivity available at sea has excluded your fleet from the centralized business processes and increased productivity that networks can provide. Today's satellite broadband connectivity is helping transform ships into branch offices at sea.
The maritime sector faces numerous challenges. In addition to managing the fallout of the global economic crisis, you need to operate in some of the most remote places on earth. Vessel safety, navigation, weather and crew welfare all impact your ability to operate efficiently.
There are also stringent regulations to meet. The International Maritime Organization (IMO) demands that the latest available navigational changes and admiralty updates are implemented, while maximizing fuel efficiency and ensuring no negative impact on crew or vessel safety.
Technology transforming maritime communications
To help you overcome these challenges, we have developed a state-of-the-art maritime communications technology suite. It meets industry requirements, such as IMO ECDIS compliance, which demands that vessels always possess the very latest navigational charts and weather updates.
Safety issues and regulatory compliance require that ships are in contact with on-shore headquarters as much as possible. Historically, maritime communications were powered by restrictive L-Band frequency connections. Today, we help vessels stay in touch using next-generation very small aperture terminal (VSAT) satellite technology. VSAT delivers stable, high-quality broadband-speed network access to vessels at sea. In addition, it provides connectivity to our global MPLS IP VPN so that your ships can be integrated into the corporate network.
This powerful communications infrastructure fulfills essential navigational, safety and compliance requirements. Critical vessel management tasks can be performed from shore, without the need to have specialists on board. You also benefit from additional voice and data transmission capacity to improve the quality of life for all your crew members.
setting new standards
We provide technology solutions to help your entire organization stay in touch with the latest corporate data to maximize resources and reduce risk.
VSAT connectivity to integrate your vessel into your corporate network
reduced costs
improved operational efficiency
over 40 years' experience in the satellite market
compliance with IMO ECDIS regulatory requirements
enhanced crew welfare and quality of life
3 reasons to choose Orange Business Services
Experience
As global specialists, we have more than 40 years behind us in developing and delivering satellite communications to remote locations. Our professional services consultants can deliver a complete end-to-end solution in line with your business strategy.
Understanding
We have partnerships and relationships around the world that enable us to deliver tailored maritime communications solutions. We appreciate the unique challenges you face and have developed tools to help you specifically address them. Fully-inclusive service level agreements are our commitment to your success.
Integration
No other provider of maritime communications solutions specializes in integrating your vessels into the corporate network. We can transform your fleet into remote offices at sea, empowering them with the latest communications tools over a reliable, future-proof global MPLS backbone. This seamless integration of satellite technology into your infrastructure is underpinned by world-class customer service and support.
GLOBE EAGLE
Through our partnership with EMC Satellite Communications we are able to provide fully customized solutions dedicated, guaranteed bandwidth options for high quality, always on voice, internet LAN communications at a fixed monthly fee.
Guaranteed bandwidth and fixed fees provide communications solutions designed to meet the needs of both the CFO and the IT department. Now simultaneous voice, Internet, and corporate networks and applications are available to vessels no matter where the location and at sensible prices.
We also understand the need to keep crew connected with their families at home. The desire for crew to stay connected has been a topic of concern for many commercial shipping companies, as maritime employees seek out companies that can provide a means for them to stay in touch. EMC's crew morale services – voice and Internet delivered over VSAT – are able do to just that.
EMC operates the largest global Automatic Beam Switching Ku-Band network and expansive C-Band satellite coverage. Designed specifically for the maritime industry, the network provides reliable and consistent VSAT communications, keeping customers connected anywhere in the world. Plus, additional beams give bandwidth flexibility that others might not offer.
C-band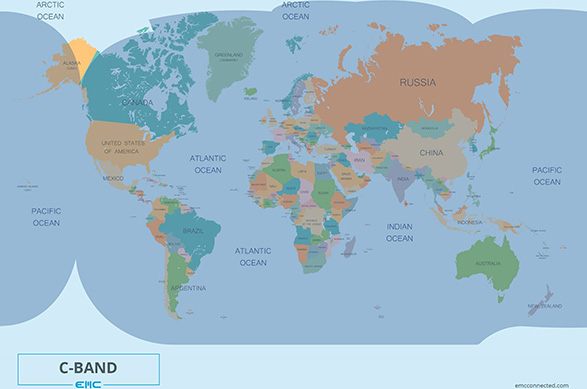 EMC utilizes fifteen C-band beams in order to offer the most cost-effective solution for its customers. EMC is the only provider to offer redundancy in its satellite network.
Ku-band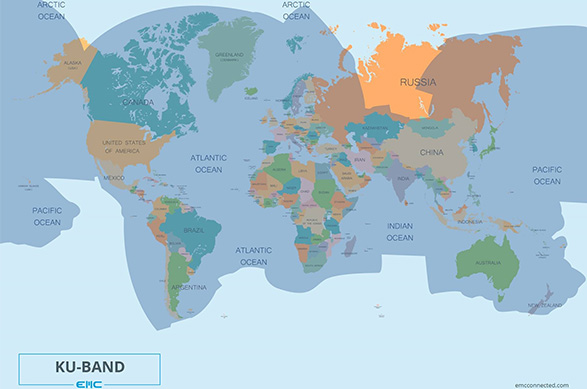 EMC's Ku-band coverage is multiregional, consisting of twenty regional beams around the world, with many overlapping beams to provide seamless and redundant coverage.
Benefits
Guaranteed bandwidth
Bursting in both directions to alleviate bottlenecks
Quality of Service (QoS) guarantees for voice calls
Prioritization based on your company's demands
SLA Standard with 24/7 support
Direct access to the three EMC Network Operation Centers (NOC), which are manned 24 hours per day, 7 days a week and 365 days a year.
Largest and most powerful maritime C-Band network with 3 global and 9 regional beams.
The ability to move across the globe without the need to change phone numbers or IP addresses
No usage restrictions or fair access policy
Virtual Private Network (VPN) connections can be created to establish a secure tunnel between ship and shore
Ever-expanding satellite coverage
All satellites on the network are managed and load-balanced daily
Our solutions are scalable to meet your company's changing requirements.
Global TV optional available for all C-Band customers.